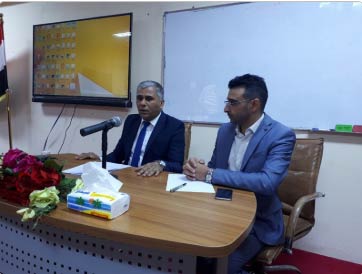 An activation the twinning programs under the government program
An activation the twinning programs under the government program
An activation the twinning programs between Diyala university with anther universities under the government program
The Department of Missions and Cultural Relations at the University of Diyala held a seminar entitled "Mechanisms for activating twinning programs under the government program".
The assistant president for scientific affairs, Assistant.Prof. Dr. Jassim Mohammed Abbas and the Director of Missions Department Dr. Haidar Ali Jassem, attuned the seminar which aimed to active the role of the colleges in adopting cultural relations projects and the ministry's directives in this regard.
The seminar dealt with activating the role of the visiting professor in an effective and real way and the extent of the university's support for these activities. It also decided to form committees within the faculties to follow up the activities of the cultural colleges and the cooperation programs.